Diagonal V Sleeveless Top
Valentina Devine's diagonal top designed for Ernestine's Knitting Studio is worked in four pieces in Henry's Attic Tussah Silk.
Skill Level: Intermediate
SIZES
To fit Misses' sizes Small (Medium, Large). Directions are for smallest size with larger sizes in parentheses. If only one figure is given, it applies to all sizes.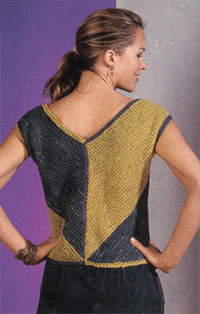 KNITTED MEASUREMENTS
Finished Bust: 34 (38, 42) in.
Back Length: 20 (22, 22) in.
MATERIALS
5 (8, 10), ounces each of Henry's Attic Hand-dyed 100% Tussah Silk hand-dyed by Valentina Devine in Denim (A) and Lime (B).
One pair knitting needles in size 8 U.S. OR SIZE REQUIRED TO OBTAIN GAUGE
GAUGE
20 sts and 24 rows = 4 in. with Henry's Attic TUSSAH SILK in garter st.
*TO SAVE TIME, TAKE TIME TO CHECK GAUGE.
NOTES
This garment is made by knitting four pieces. Two pieces are knitted with Denim on the bottom and two with Lime on the bottom. By alternating the colors, the look is diagonal blocks of color.
INSTRUCTIONS
PANELS (make 2):
With A, CO 2 sts.
Row 1: K 2 sts. K, inc 1 st into every first st of every row (do nothing at end of row) until there are 51 (56, 61) sts. Break strand and change to B. Cont inc on one side and dec on other side making sure that is done only at beg of every row; do nothing at other end of row. Cont in this manner until there are 24 garter st ridges (48 rows) on the outside edge.
Shape shoulder: Dec 1 st on both sides, always at beg of row. When 35 sts rem, BO. Make 2 more panels, casting on with B and changing to A.
FINISHING
Sew shoulders tog. Sew side seams, leaving about 8 in. free for armhole. With opposite color, PU sts at each edge and work 2 rows garter st. (Hint: Use garter ridge sts. Place ndl in sideways and PU sts. Count PU sts so that each edge has the same amount.)
Designed by Valentina Devine
Was this article interesting?