Let's protect those who are protecting us, by sending hand-made warmth to a solider.
Skill level: Easy
MATERIALS
(1) 100g (210 yd) ball Plymouth Yarn Galway Worsted (100% wool)
One ball will make 2 hats.
Only helmet liners made from 100% wool will be accepted. Acrylic yarn melts at high temperature and is unacceptable for this project.
Color must be appropriate to the military: tan, brown, gray, olive, or black.
Size 8 US (5mm) 16" circular needles OR SIZE TO OBTAIN GAUGE
Size 8 US (5mm) double pointed needles
1 stitch marker, yarn needle






GAUGE

18 sts = 4" in St st TO SAVE TIME, TAKE TIME TO CHECK GAUGE.
SIZE
Hat is sized to fit an adult head.
FINISHED MEASUREMENT
STITCH GLOSSARY
St st: Stockinette stitch (knit every round)
CO: cast on
Rnd: round
K2tog: knit 2 stitches together
sts: stitches
HAT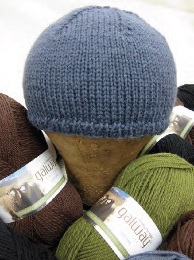 With circular needle, CO 90 sts. Being careful not to twist, place marker and join.
Rnd 1-4: K1, P1 rib around.
Rnd 5: Inc in first st, knit around [91 sts].
Continue St st until piece measures 4" above rib.
Shape Top
Change to double pointed needles when necessary.
Rnd 1: (Knit 11, K2tog) [84 sts]
All even Rnds 2-14: Knit
Rnd 3: (K10, K2tog) [77 sts].
Rnd 5: (K9, K2tog) [70 sts].
Rnd 7: (K8, K2tog) [63 sts].
Rnd 9: (K7, K2tog) [56 sts].
Rnd 11: (K6, K2tog) [49 sts].
Rnd 13: (K5, K2tog) [42 sts].
Rnd 15: (K4, K2tog) [35 sts].
Rnd 16: (K3, K2tog) [28 sts].
Rnd 17: (K2, K2tog) [21 sts].
Rnd 18: (K1, K2tog) [14 sts].
Rnd 19: (K2tog) [7 sts].
FINISHING
Cut yarn leaving a 6". Using the yarn needle, thread tail through remaining 7 sts. Pull tight and fasten off. Weave in ends.




Was this article interesting?